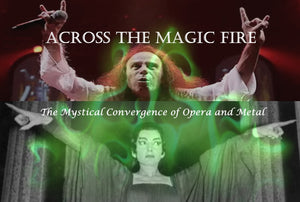 "Across the Magic Fire" was a webinar event, which took place on Sunday, December 6th, in a single live episode exploring the intersection of the two seemingly disparate performance genres of Opera and Metal. Anyone interested in either of these subjects, as well as theatrical history, storytelling, or performance will find the video of this seminar fascinating. 
We go far beyond the clichés of "screaming" vocals to examine the narrative and thematic commonalities of these two extreme art forms which also share similar daunting profiles to the average music consumer.
The session lasted over 90 minutes. The subject was introduced by William Berger, with some listening and visual clips, and was based on presentations he has recently given at such venues as Yale University and NYU. He was joined by two prominent performers, star bass-baritone Christian Van Horn and television star/Metal goddess Jessica Pimentel for a "panel discussion." Throughout, there was a discussion/question-and-answer queue open to attendees.
The issue that emerges every time William Berger presents this rich and intriguing combination of subjects becomes not only a new point of view on the subjects themselves, but ultimately a paradigm for looking at our own aesthetic wants and needs: why do we like what we like, and what does that tell us about who we are?
Once the webinar is purchased, you will be provided with a confirmation email of payment, and then another email with a link to download the video.
If you purchased the live event, please check the information document that you downloaded before the event took place (where the Zoom links were provided) to obtain the Discount Code to use to download for free.